KMC Partners is dedicated to providing comprehensive, full-service construction services to its clients. We utilize an educational and transparent approach allowing our teams to Build with Confidence.
Financial Institution
Commercial Corporate
The new flagship financial center is located at 1835 Market Street in center city Philadelphia. At 7,000 square feet – almost three times the average 2,500 square foot branch model the plant implements – the project was designed by Philadelphia-based Architect Bohlin Cywinski Jackson.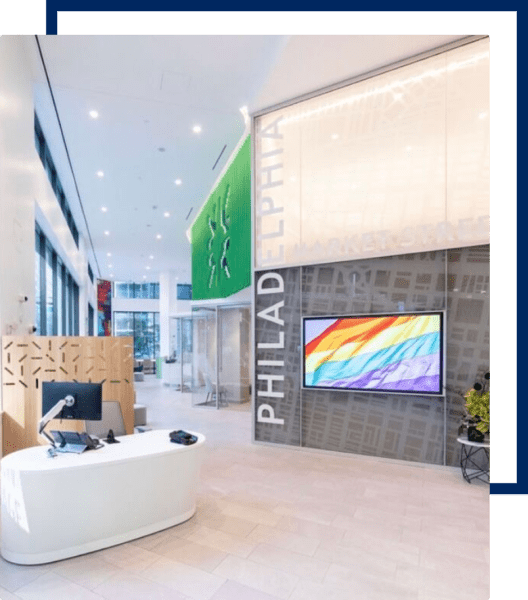 I really enjoyed working with Josh Kuzma. Quite frankly, he was a lifesaver in terms of my sanity with this project. I would highly recommend KMC Partners to anyone who asks. Josh was always upfront and available to me/us, which was very refreshing and much needed on this project. After working with him, I can attest to Josh's work ethic and knowledge of the industry. I would recommend KMC to any colleagues who are thinking about moving or renovating.

I would recommend KMC to any colleagues who are thinking about moving or renovating.
Guy D'Andrea, Esq.
KMC Partners offer a unique construction management business that focus' on client's success. Our client who is expanding from Australia into North American has been able to navigate all obstacles thanks to Josh Kuzma and Jamie McDonald's collaborative foresight and professionalism. Their ability to quickly comprehend and immerse themselves into projects are skills we hope you can experience. We are based in Australia and have effortlessly worked with KMC Partners across multiple American States with great respect and admiration. Our journey will continue with KMC Partners, and we recommend you explore and test your unique requirements with Josh & Jamie, allowing you to also build with confidence.
Darren Hose
I have served as Jamie and Josh's business consultant for the year before they started KMC Partners. From the start, I was impressed by their professionalism in planning for their business. They were clearly passionate about their work and clients. Throughout the process of starting the company, they were exceptionally organized and moved forward swiftly. They have a true partnership complementing each other's expertise, skills, and aptitudes. As a result, they have been among my most impressive clients.
Erika Tapp Duran